Introducing the Newest Wrinkle Stopper – Jeuveau Injectable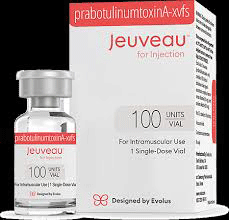 Jeuveau Injectable, the latest wrinkle inhibitor, is predicted to give Botox and Dysport a run for their money! Jeuveau is the first aesthetic-only neurotoxin approved in the US. Like Botox and other neuromodulators, Its use is for the temporary improvement in the appearance of moderate to severe glabellar lines associated with corrugator muscle activity in adults.
Jeuveau™ is meant to be a play on the French word "nouveau" which means "recent" or "modern" and patients will evolve with the product as they move forward in their journey towards youth.
Since it was first approved by the FDA in 2002, Botox has become the Kleenex of wrinkle-relaxing injectables; a brand name virtually interchangeable with the category itself. Even with newer competitors like Dysport and Xeomin on the market, Botox remains the gold standard: It's safe, it's effective, and it's proven. But earlier this year, the FDA greenlit Jeuveau, the first new neurotoxin approved for aesthetic usage in nearly a decade.
What is the Difference Between Botox & Jeuveau?
Jeuveau by Evolus, was designed and positioned to be a premium competitor to Botox. It is expected that Jeuveau™ will also build a loyal consumer base soon because of the price point. It is expected to be a lower price point than Botox. However, Jeuveau™ follows the same procedure as the other brands.
In clinical studies, Jeuveau was found to soften the appearance of frown lines as well as Botox. This is called a "non-superiority" study. Jeuveau is different from Botox in that it undergoes a different purification process, as well as a different drying process. The vacuum drying process of Jeuveau has been shown to not damage the botulinum toxin protein. Therefore, it is theoretically possible that Jeuveau may have better potency to other wrinkles relaxers, aka neuromodulators.
Like Botox, Dysport, and Xeomin, Jeuveau is used to temporarily improve the appearance of frown lines between the eyebrows — technically called the glabellar lines, but often referred to as the "11s."
---
Dr. Peter Abramson, at Abramson Facial Plastic Surgery Center in Atlanta, GA, is excited to see advancements in the field of cosmetic injectables . Competition is good for the consumer. Call for pricing and schedule an appointment that can make you look years younger overnight!