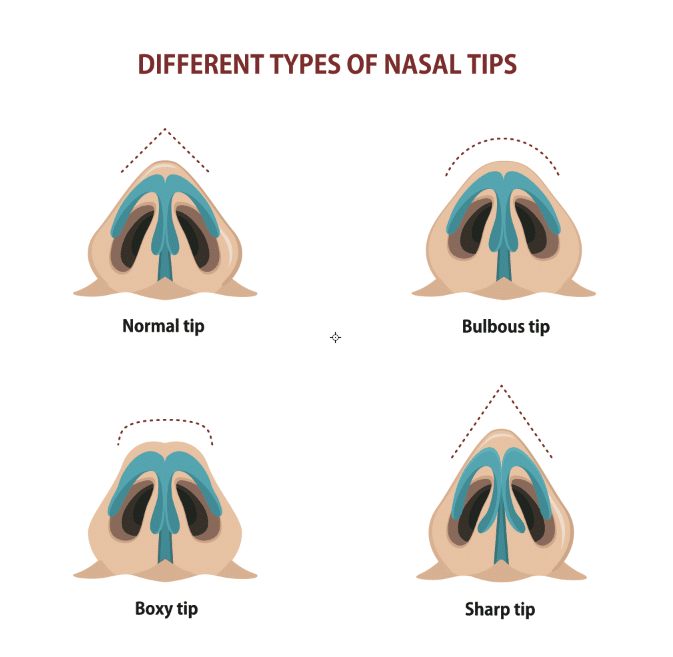 Correcting a bulbous tip nose is one of the top reasons patients seek out the help of top rhinoplasty specialist, Dr. Peter Abramson. A bulbous nasal tip is more rounded with a ball like appearance at the end of the nose. Individuals typically comment that their nose looks too big or wide. Others describe the nose as having no shape. The nasal tip should never draw attention to it. It should be proportional in terms of size and width such that the bridge gently blends or transitions into the nasal tip. Overall, the tip should be triangular shaped without sharp angles with the tip gradually sloping in a convex orientation from the midline out to the sides.
Rhinoplasty Consultation
With any rhinoplasty, the goal should be to improve the appearance of your nose using a subtle and highly individualized approach. Dr Abramson will discuss with his patients their goals and possible outcomes. He will take pictures, and do photo imaging that can show the patient what they can look like after the rhinoplasty surgery. He will also be honest with the patient about over expectations. He prefers to take a conservative approach in order to give you the nose that you want without appearing fake and without making you look like a different person.
Correcting A Bulbous Tip Nose
This type of rhinoplasty is done by removing small edges of the cartilage to refine them and using suturing techniques to create a sharper but yet natural nasal tip. Sometimes, cartilage grafts are necessary to create a more refined nasal tip in patients. Lastly, thinning of the nasal tip skin may be necessary for thick skinned patients.
Dr. Abramson has a vast knowledge of the various types of tip grafts used to correct a bulbous tip, and will be able to decide which grafts are appropriate to provide tip refinement.
Recovery Time After Rhinoplasty for Bulbous Tip Nose
Double board certified facial plastic surgeon. Dr. Peter Abramson will perform the rhinoplasty in his own customized  state-of-the-art surgical suite and  is located in the same building as his office in the Emory Clinic at Emory Saint Joseph's on Peachtree Dunwoody Road in Atlanta, GA.
Because rhinoplasty is considered to be an outpatient procedure, patients can begin the recovery process in the comfort of their own home the same day as surgery. After the procedure, soft packing is inserted into each nostril and an adhesive tape splint is applied to the nose. Dr. Abramson will remove the  dressing and packing after 5-6 days following surgery. If pain is present it can easily be controlled with over-the-counter medication. Discoloration and bruising is a normal part of the recovery process and generally fades away within seven days. To help the recovery process, Dr. Abramson suggests that patients do the following:
Following the procedure, remain out of bed in an upright position to decrease swelling and accelerate healing.
No strenuous activities for 2 to 3 weeks.
Avoid prolonged exposure to direct sunlight.
Keep scheduled follow-up appointments following surgery.
---
Abramson Facial Plastic Surgery & Rejuvenation Center uses innovative, state-of-the-art techniques and instruments to perform rhinoplasty and other aesthetic procedures for patients throughout the Metro Atlanta, GA area as well as throughout the United States and abroad. Call (404) 297-1789 today to schedule a personal consultation with Dr. Abramson to determine if this procedure is right for you.
To learn more about rhinoplasty surgery visit the American Board of Otolaryngology – Head and Neck Surgery Specialties.