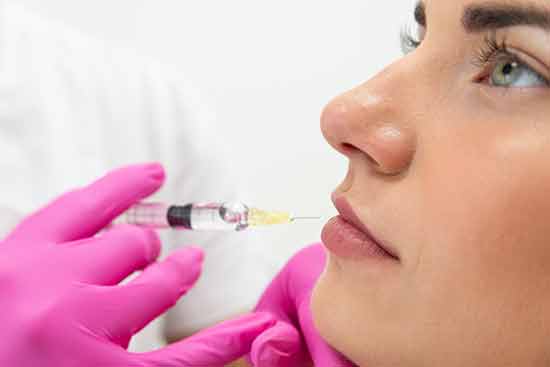 Juvederm Ultra products are injectable dermal fillers made up of a modified form of hyaluronic acid. This natural substance aids in the retention of moisture in the skin, leading to softer skin that has added volume. There are a variety of Juvederm Ultra products available from Atlanta plastic surgeon, Peter Abramson, MD that can fill facial lines, folds and wrinkles, contour skin, correct scars, and enhance lip and cheek volume.
Juvederm Volbella XC injectable is for injection into the lips for lip augmentation and for correction of perioral lines.
Juvederm Voluma XC injectable gel is for deep injection in the cheek area to correct age-related volume loss and for augmentation of the chin region to improve the chin profile.
Juvederm Vollure XC, Juvederm Ultra Plus XC, and Juvederm Ultra XC injectable gels are for injection into the facial tissue for the correction of moderate to server facial wrinkles and folds, such as nasolabial folds.
Juvederm Ultra XC injectable gel ifs for injection into the lips and perioral area for lip augmentation n adults over 21.
Juvederm Ultra Plus XC
Juvederm Ultra Plus is made of a thicker formula, with effects that can last a year. This filler is placed within the middle of the dermis, getting into deep layers of skin for ultimate results on filling serious wrinkles, increasing significant lip volume in addition to the effects of Juvederm Ultra. Juvederm Ultra Plus XC achieves all of the above with lidocaine for gentler procedures.
Additional Information about Juvederm Ultra XC
Juvederm Ultra's results can last up to one year, with the average effectiveness lasting nine months. Juvederm's popularity is, in part, due to its excellent flow and smooth texture, unlike the consistency of other fillers. The reason for the product's smoothness is due to its Hylacross technology, a manufacturing process Allergan utilizes to create the line of Juvederm Ultra products.
Great for filling moderately sized wrinkles, Juvederm Ultra is also a superior filler for expression lines. This product is also best for contouring facial structure, correcting scars and enhancing lips to a moderate degree.
Juvederm XC performs all of the same effects as regular Juvederm Ultra XC   with one added ingredient: lidocaine. This is a local anesthetic that adds to a patient's comfort when receiving the injections.
Finally, there is Juvederm Voluma XC, with lidocaine, to help add plumpness to the cheek areas of the face. It is injected into deep dermal layers of the cheek in three different areas and can last up to 24 months.
Juvederm Ultra products usually yield immediate visual results. The possible side effects associated with these injectables include redness and soreness at the injection site, swelling, bruising, stiffness, itchiness and infection.
Juvederm Ultra Products VS Other Injectable Fillers
Other dermal hyaluronic acid fillers include products like:
Restylane also comes in a variety of forms, each of which will greatly diminish severe to moderate nasolabial folds, wrinkles and lines for roughly six months. The formulations will also plump lips. Restylane and Restylane-L work in a similar fashion to Juvederm Ultra and Ultra XC. The Restylane-L contains lidocaine for less discomfort.
Restylane Silk provides natural-looking lip plumping and smooths wrinkles and lines around the mouth area with effects lasting up to six months.
Radiesse
Belotero
Each filler is designed to yield optimal results for particular areas of the face. During a pre-treatment consultation, Dr. Abramson will help you decide which one can be used most effectively for your cosmetic goals.
Popularity Continues to Grow for Injectable Fillers
Injectable gels composed of hyaluronic acid are extremely popular around the US and around the world.  According to the American Society of Plastic Surgeons the use of fillers has soared from 1.8 million procedures in 2010 to 2.6 million in 2016.
With facial fillers you can smooth away wrinkles and increase volume in certain facial areas such as the lips and cheeks. All designed to help you look more youthful. At Abramson Facial Plastic Surgery, state-of-the-art dermal fillers that are FDA approved can be applied in the office, usually within an hour's time.
This article does not take the place of medical or professional advice as concerns to dermal fillers. Make an appointment for a consultation if you would like to know what Dr. Peter Abramson at Abramson Facial Plastic Surgery could do for you. In addition to Atlanta, he serves patients from Buckhead, Dunwoody, Sandy Springs, Marietta, Roswell, Alpharetta and beyond.