The Initial Cosmetic Consult/Virtual Visit
Computer imaging plays a big role during a facial cosmetic cosmetic consult/virtual visit with Peter Abramson, M.D. With computer imaging you can "try on" your new face before having the cosmetic procedure.
In addition to computer imaging, Dr. Abramson will ask you questions in order to determine what your goals and expectations are in the procedure you are considering.  The goal of a cosmetic complimentary consult/virtual visit at Abramson Facial Plastic Surgery Center in Atlanta, GA is primarily to educate the patient about the surgery in question, the process of preparing for surgery, and the recovery period involved. The cosmetic consult/virtual visit is an important step in the process of considering cosmetic surgery. We understand more than anyone that a cosmetic procedure consultation is an important step, and now you can explore your procedure possibilities without having to leave the comfort of your home.
Computer Imaging System
The computer has revolutionized cosmetic surgery. As an experienced facial plastic surgeon, with over two decades of experience, Dr. Peter Abramson has come to rely on computer imaging as an invaluable method for communication with patients to assure the best possible outcome during your initial  consult/virtual visit. Using the special computer imaging system, Dr. Abramson can take your photo and manipulate the image to help you see what plastic surgery can do and not do. This system is useful for teaching patients and allowing for realistic expectations.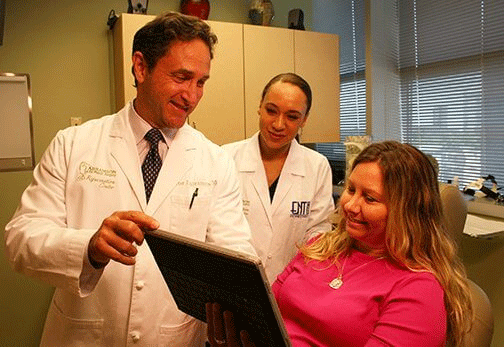 Now you can see what you could look like after your facial procedure beforehand. During your facial cosmetic surgery virtual consultation, you send in your photo, which is reviewed and then the images are changed to look like your most probable outcome. If you desire to reduce the size of your nose, erase the wrinkles, sagging neckline or even a chin augmentation, you can see the end result. If you're not sure about having a procedure, computer imaging can help you feel more confident about making the decision. Through computer imaging, Dr. Abramson can create a realistic image of how the procedure will look on you. It is like you can try on your new face, new nose beforehand.
It's amazing to compare these images after your surgery to see how close Dr. Abramson gets to your actual outcome, but this is not a guarantee of your future appearance. While the computer can do wonders, there are many variables associated with surgery.
Computerized imaging is just one of the many tools Dr. Abramson uses when determining the best outcomes for his patients. His main advantage for achieving great results comes from his extensive training and over 20 years of experience in performing facial cosmetic procedures such as facelift, rhinoplasty, chin augmentation, cheek enhancement, blepharoplasty and browlift.
Each patient is unique, therefore results may vary.
---
Are you ready to take the first step by scheduling your initial  cosmetic consult/virtual visit? Call 404-297-1789 or fill out our Contact Form and we will schedule your virtual visit with Dr. Abramson. The Abramson Facial Plastic Surgery & Rejuvenation Center is located at 5673 Peachtree Dunwoody Road, NE, Atlanta, GA. It is a very convenient location for those living in the Atlanta area and north of Atlanta in Roswell, Marietta, Milton, Alpharetta, Johns Creek, and Suwanee, GA. Many of Dr. Abramson's patients fly in from out of state. We have complete instructions to help you with your travels.
Find out more about how to prepare for your complimentary cosmetic consult/virtual visit at the American Board of Cosmetic Surgery.