Your Consultation
Where do I Start? At Abramson Facial Plastic Surgery & Rejuvenation Center we believe a consultation with Peter J. Abramson, M.D. is essential before an actual procedure is performed. Dr. Abramson is a double board-certified facial plastic surgeon by the American Academy of Facial Plastic and Reconstructive Surgery and American Board of Otolaryngology – Head and Neck Surgery. His consultation sessions are patient focused.  Dr. Abramson and the staff at Abramson Facial Plastic Surgery in Atlanta, GA utilize hour long consultations to discuss concerns and help define patient goals clearly, so a unique treatment plan can be created.
During each consultation, Dr. Abramson will review and explain the various options available today, while factoring in your age, ethnicity and gender. Using sophisticated imaging technology, as well as before and after photos, patients can visualize their potential outcome.
Dr. Abramson doesn't cut corners; he knows the decision to have a cosmetic surgical procedure is a personal and important choice. He knows you will ultimately base your decision solely on your set of established priorities and goals. As an individual, your needs are specific and particular to your situation. Understanding this, Dr. Peter Abramson, and his highly qualified staff customize our consultations to your desired need. Where do I start? Start at Abramson Facial Plastic Surgery Center and experience what patients are raving about.
Computer Imaging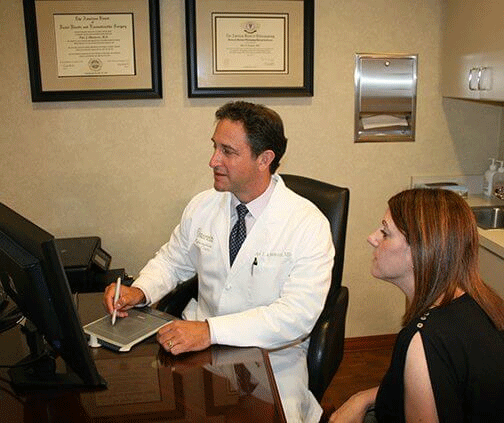 The computer has revolutionized cosmetic surgery. As an experienced facial plastic surgeon, with over two decades of experience, Dr. Peter Abramson has come to rely on computer imaging as an invaluable method for communication with patients to assure the best possible outcome during your initial consultation. Using the special computer imaging system, Dr. Peter Abramson can take your photo and manipulate the image to help you see what plastic surgery can do and not do. This system is useful for teaching patients what is feasible with today's technology and helps foster realistic expectations. Learn more+
Where Do I Start? Meet with Our Staff
As part of this process, our Patient Care Coordinator will provide you with additional information about the procedure(s) and, equally as important, allow you to become familiar with our team and us with you. Dr. Abramson will also examine you, learn about your concerns and goals, discuss your particular case, listen, educate and support you in making your decision, with an informative process that includes a thorough discussion of available options, while answering any questions you may have.
Should Dr. Abramson determine you are a good candidate for facial plastic surgery, the consultation will include a discussion of the treatment plan, the cost, and our financial policies. Dr. Abramson pays great attention to details which helps to ensure that your treatment will be well-planned and well-executed. If you are ready to take the first step toward improving your appearance, then call today and schedule your consultation.
---
Patients come to the Abramson Facial Plastic Surgery & Rejuvenation Center from all over the United States and Canada. If you are coming from out of town, review our suggestions for travel to our office in Atlanta, GA. For patients living nearby in Alpharetta, Roswell, Marietta, Sandy Springs, Dunwoody, Decatur, Johns Creek and other Atlanta area locations, we are located at 5673 Peachtree Dunwoody Rd. #140, Atlanta, GA 30342.