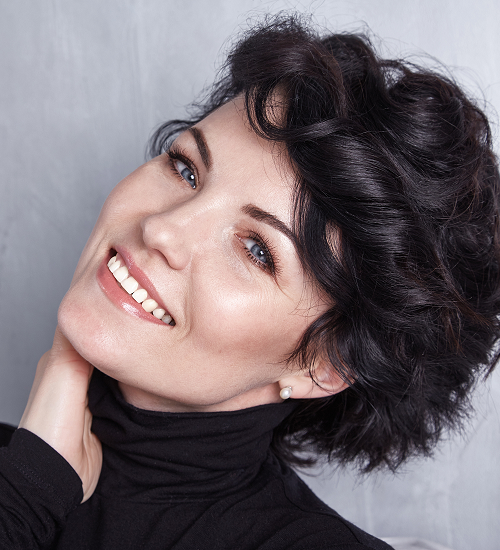 A mini facelift by Peter Abramson, M.D. is the perfect procedure for men and women experiencing the first signs of aging. Facial signs of aging usually occur during the 30s and 40s. The facial skin becomes less firm; jowls appear along the jawline, and loose skin and muscle start to sag on the neck. If you are looking for a way to address these early signs of aging and don't have the time for a full facelift, a mini facelift might be your perfect solution. Dr. Peter Abramson is a double board-certified facial plastic surgeon and has been specially trained in performing facelift procedures.
What is a Mini Facelift?
A mini facelift is a minimally invasive procedure designed to tighten and smooth the mid and lower part of the face. It is often referred to as the "weekend facelift." The mini facelift decreases the signs of aging in the neck, cheek, and jaw areas by removing excess skin and fatty deposits. The end result visibly lifts skin causing the face to appear smoother and younger.
In today's competitive work environment in Atlanta, it's important to stay on top of your game as well as looking the part. Dr. Abramson consults routinely with corporate leaders, politicians, and local celebrities. He understands all too well how important appearance can be. These high profile people can count on Dr. Abramson to keep them looking young and sharp as well as to keep their identity top secret.
A mini facelift is often referred to as a mid-facelift because that is the actual area of the face it lifts, the lower third of the face which includes the jowls and neck. The mini facelift accomplishes many of the same goals as a traditional full facelift but with smaller incisions and shorter downtime. Many patients can return to work and activities in less than a week.
To view before and after mini facelift surgical pictures click here.
How Long Does a Mini Facelift Last?
Actually, the results achieved from either a facelift or mini facelift will be ongoing. A mini facelift can last 10 years or more.  The aging process continues after you've had the surgery, so skin and facial muscles will start to sag and droop again but will be much later than if you hadn't had facial surgery. With a talented surgeon like Dr. Peter Abramson and a healthy lifestyle, a mini facelift allows you to enjoy years of looking younger.
A facelift's longevity depends on several factors including the patient's skin and age. Darker skin that is healthy at the time of the procedure will respond better than skin that is fairer, thinner, or sun-damaged. Patients younger than 60 typically have longer-lasting results.
Dr. Abramson may also suggest that you combine facial fat transfer with your mini facelift along with skin resurfacing treatments on a regular basis. These additional measures can possibly double the number of years that your facial plastic surgery procedures will last.
Tips to Make Your Facelift Last Longer
Genetics and skin type have a role in your aging process and is why some people look older than others once they reach 50 and beyond. They are also a determining factor in how long your facial plastic surgery will last. Even so, there are steps you can take to improve the longevity of a mini or full facelift.
Chose the right facial plastic surgeon. You should only consider a facial plastic surgeon like Dr. Peter Abramson. He is an expert in facial plastic surgery procedures and has the experience you can trust when it comes to your face.
Don't smoke! Immediately after surgery smoke can actually cause an infection leading to greater scarring and worse. Long term, smoking hampers blood flow and accelerates the aging process.
Wear sunscreen! If the thought of skin cancer doesn't scare you, just remember that the sun can cause you to develop wrinkles at an early age.
Maintain a healthy weight. Weight gain and loss can affect your face. Patients who experience extreme weight loss before surgery will often lack the skin elasticity for a long-lasting lift, and significant weight fluctuations following the procedure can affect results. If you desire to keep your face young and vibrant then work hard on developing good healthy habits when it comes to your diet and exercise.
Hydrate by drinking lots of water throughout the day. Staying hydrated will keep your skin healthy and your face looking full.
In-office and at-home skincare maintenance. Abramson Facial Plastic Surgery & Rejuvenation Center has one of the finest aesthetic med spas in Atlanta. With the professional care and advice you receive from their long-time experienced aesthetician, you can be assured that your investment in facial plastic surgery will last for long term results. They also will create a custom skincare regimen using their professional medical-grade skincare products such as Environ, Societe, and CosMedix.
Use injectables such as Botox® Cosmetic and Juévederm® Family of Fillers to keep cheeks plump, wrinkles eliminated, lips full and folds around the mouth full.
About the Mini Facelift Procedure
This popular procedure can often be performed under local anesthesia with minimal downtime, little to no pain, and minimal swelling or bruising. The results are permanent and last as long as a traditional facelift but with much less downtime as a full facelift. This procedure appeals to a multitude of patients who are looking for gradual, subtle changes that can be done quickly as an out-patient at Abramson Facial Plastic Surgery Center's own surgical suite located in his office. Patients some times combine the mini facelift procedure with chin augmentation, eye lift, facial liposuction, and injectables to achieve optimal results.
Procedure Preparation
Prior to a mini facelift procedure, Dr. Abramson recommends that patients adhere to standard pre-op guidelines to allow for patient safety and maximum post-op results as follows:
Eat a healthy diet rich in nutrients.
DO NOT smoke in the weeks surrounding the procedure.
DO NOT take pain medication containing aspirin or ibuprofen.
Provide Dr. Abramson with a list of any medications that are taken regularly.
DO NOT eat or drink after midnight the night before the procedure.
DO NOT wear makeup or contact lenses to surgery.
Patients must have a friend or relative drive them to and form the procedure.
Recovery From a Mini Facelift
Because a mini facelift is considered to be an outpatient procedure, patients can begin the recovery process in the comfort of their own home the same day as surgery. After the procedure, a loose-fitting dressing is applied. Typically, there is little to no discomfort after surgery; however, if pain is present it can easily be controlled with over-the-counter medication. Discoloration and bruising is a normal part of the recovery process and generally fades away within seven days. To help the recovery process, Dr. Abramson suggests that patients do the following:
Keep the head elevated as much as possible
Avoid strenuous activities for 2 to 3 weeks
Keep scheduled follow-up appointments following surgery
---
Abramson Facial Plastic Surgery Center & Rejuvenation Center uses innovative, state-of-the-art techniques and instruments to perform mini facelifts and other aesthetic procedures for patients throughout the Metro Atlanta, GA area including Gainesville, Carrollton, Norcross, Alpharetta, Roswell and Johns Creek. Call (404) 297-1789 today to schedule a mini facelift consultation.