The upper third of the face is generally the first area to show signs of aging which tend to make patients look tired, drowsy, or upset regardless of how they feel. A browlift is an effective way of minimizing the look of frown lines and drooping eyelids for a more youthful appearance. Typical results of a browlift include the fading or disappearance of lines on the forehead, raised eyelids, and a younger, more energetic appearance overall.
Types of Browlift
Endoscopic Browlift (endobrow): Prior to the procedure, patients are given a mild sedation and treatment areas are anesthetized. 2-3 small incisions are made in the hairline where a small slender telescope elevates the skin on the forehead from the bone. Corrugator muscles are released, and the brow is lifted into a new position. Sutures or staples will be used to hold the flap in place for a few weeks.
Direct Browlift: Prior to the procedure, patients are given a mild sedation and treatment areas are anesthetized. Incisions are placed directly over the top of the brows so that scars are hidden by eyebrow hair. The incisions are closed with stitches which are removed approximately two weeks later.
Candidates for Browlift Surgery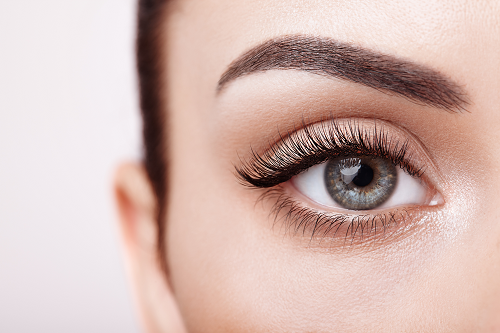 To determine whether or not a patient is a good candidate for a browlift, Peter Abramson, M.D. carefully studies a patient's facial features to determine whether or not the procedure should be combined with other procedures for optimal results. Patients that are interested in a browlift generally want to correct one or more of the following:
Drooping brows
Angry, or tired appearance
Horizontal lines across the forehead
Deep furrows between the brows
Heavy upper eyelids
Browlift Procedure Preparation
Prior to browlift surgery, Dr. Abramson recommends that patients adhere to standard pre-op guidelines to allow for patient safety and maximum post-op results as follows:
Eat a healthy diet rich in nutrients.
DO NOT smoke in the weeks surrounding the procedure.
DO NOT take pain medication containing aspirin or ibuprofen.
Provide Dr. Abramson with a list of any medications that are taken regularly.
DO NOT eat or drink after midnight the night before the procedure.
DO NOT wear makeup or contact lenses to surgery.
Patients must have a friend or relative drive them to and from the procedure.
Aftercare and Recovery
Because browlift surgery is considered to be an outpatient procedure, patients can begin the recovery process in the comfort of their own home the same day as surgery. After the procedure, a loose fitting dressing is applied. Typically, there is little to no discomfort after surgery; however, if pain is present it can easily be controlled with over-the-counter medication. Discoloration and bruising is a normal part of the recovery process and generally fades away within seven days. To help the recovery process, Dr. Abramson suggests that patients do the following:
Recline in a face-up position at a 45-degree angle for at least one week
Avoid strenuous activities for 2 to 3 weeks
Keep scheduled follow-up appointments following surgery
Wear bandages as directed
Wait until bandages are removed to shower and wash hair
Apply any prescribed ointment to incision areas to help minimize scarring
---
Abramson Facial Plastic Surgery & Rejuvenation Center uses innovative, state-of-the-art techniques and instruments to perform browlifts and other aesthetic procedures for patients throughout the Metro Atlanta, GA area including Milton, Gainesville, Dunwoody, Sandy Springs, and Alpharetta, GA. Call 404/297-1789 today to schedule a cosmetic consult/virtual visit with Dr. Abramson to determine if a browlift procedure is right for you.