In an effort to provide our patients with the most advanced services, Abramson Facial Plastic Surgery & Rejuvenation Center offers a variety of laser treatments designed to erase and improve skin conditions due to aging, sun exposure, acne, scarring, vascular pigmentation, and more. By utilizing different laser techniques, Peter Abramson, M.D. and Lina Valiukaite can provide the most cutting-edge cosmetic treatments for those in the Atlanta area. In addition, the Abramson Facial Plastic Surgery Medical Spa offers a variety of medical-grade skincare and cosmetic products to keep skin supple and healthy pre-and post-treatment. Learn more+
Candidates for Laser Treatment
Skin abnormalities: port wine stains, hemangiomas, cherry angioma, rosacea, warts, scars and keloids
Effects of aging: ruddy complexion, sagging neck and/or face, age spots, sunspots, discoloration, moderate to severe wrinkles, textural irregularities, lip lines, facial veins (red and blue), venous lake (purple lesions on lips).
Diffuse redness of the face and neck skin
Sebaceous hyperplasia (dilated oil glands)
Freckles
Uneven skin tone
Large pores
Acne
Types of Laser Treatments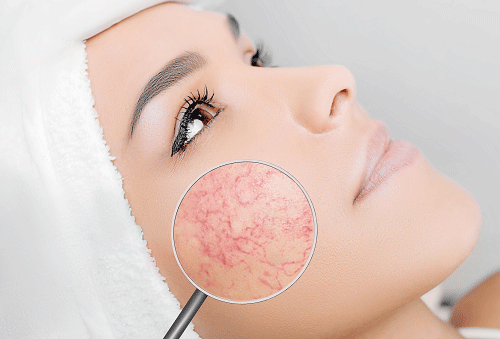 Prior to any procedure, Dr. Abramson consults with patients to determine which laser treatment is appropriate.
Fraxel Laser Skin Rejuvenation
The number of sessions depends on various parameters unique to each patient. With the Excel V Laser, one treatment can significantly improve superficial vascular lesions such as small spider veins and diffused redness. For other types of laser techniques, optimal results are normally seen following 4 to 6 treatments. A treatment course will be determined during the  cosmetic consult/virtual visit.
Before and After a Laser Treatment
Patients will need to remove make-up or moisturizers and, in some cases, the area to be treated may need to be shaved. With the exception of deep CO2 Laser Resurfacing, gel, anesthetic or ice is not required for laser treatments and there are no long-term side effects or downtime.
---
Abramson Facial Plastic Surgery & Rejuvenation Center uses innovative, state-of-the-art techniques and instruments to perform a variety of aesthetic procedures for patients throughout the Metro Atlanta, GA area including Gainesville, Carrollton, Norcross, Alpharetta, Roswell and Johns Creek. Call (404) 297-1789 today to schedule a  consult/virtual visit to determine which laser treatment is best for you!