Sometimes the visual balance between the chin and other facial features can be deficient. Without proper proportion and asymmetry, especially in the chin, the face can look disproportionate or even deformed. Chin augmentation, (also called Genioplasty or Mentoplasty), can reconstruct or rejuvenate a patient's facial contours and improve their profile by creating a better balance between the chin and other facial features.
Peter Abramson, M.D. at Abramson Facial Plastic Surgery Center in Atlanta, GA is dedicated tot he aesthetics and contours of the face and neck exclusively. He understands how to augment the bony aspect of the face with certain implants to provide an aesthetically pleasing result. A chin implant or chin augmentation can provide harmony, balance and proportion between the cheeks, chin and nose.
A weak chin, weak jaw, or recessed chin can make the nose look disproportionate and larger. This weak chin can also make the neck appear less defined. In addition, an underdeveloped chin can falsely convey to others a perception of weakness femininity in a male. A chin implant is one option that can enhance the chin providing balance and harmony to the face.
To view before and after surgical pictures click here.
Candidates for Chin Augmentation
To determine whether or not a patient is a good candidate for chin augmentation, Dr. Abramson carefully studies a patient's facial features to look for weakness, exaggeration, or lack of symmetry. Patients that are interested in chin augmentation generally want to correct one or more of the following:
Restore contour and proportion to facial structures made deficient by aging.
Improve a weak, receding chin by increasing the projection of the chin.
Correct an undefined or weak jawline that does not help frame the face or distinguish the neck.
Correct facial deformities resulting from injury or congenital conditions.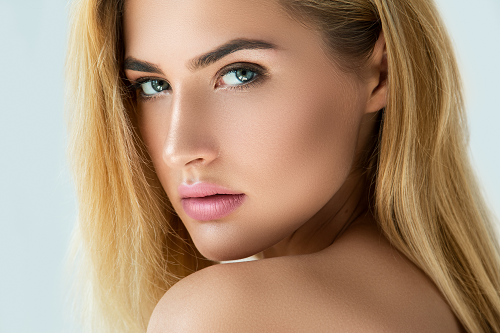 Chin augmentation can be performed alone but is often performed with a facelift or a rhinoplasty (nose job). Performed with a facelift or rhinoplasty can provide harmony and balance between the nose and the chin. Not every rhinoplasty requires a chin implant, but the chin is often overlooked in a nasal evaluation, and may play a very important part of achieving a natural-appearing, balanced result. Dr. Abramson uses special implants that are designed to appear natural and undetectable. During your cosmetic consult/virtual visit he will carefully evaluate your facial bone structure to determine if it is right for you.
Procedure Preparation
Prior to a chin augmentation procedure, Dr. Abramson recommends that patients adhere to standard pre-op guidelines to allow for patient safety and maximum post-op results as follows:
Eat a healthy diet rich in nutrients.
DO NOT smoke in the weeks surrounding the procedure.
DO NOT take pain medication containing aspirin or ibuprofen.
Provide Dr. Abramson with a list of any medications that are taken regularly.
DO NOT eat or drink after midnight the night before the procedure.
DO NOT wear makeup or contact lenses to surgery.
Patients must have a friend or relative drive them to and form the procedure.
Aftercare and Recovery
Because chin augmentation is considered to be an outpatient procedure, patients can begin the recovery process in the comfort of their own home the same day as surgery. After the procedure, a loose-fitting dressing is applied. Typically, there is little to no discomfort after surgery; however, if pain is present it can easily be controlled with over-the-counter medication. Discoloration and bruising is a normal part of the recovery process and generally fades away within seven days. To help the recovery process, Dr. Abramson suggests that patients do the following:
Recline in a face-up position at a 45-degree angle for at least one week.
Avoid strenuous activities for 2 to 3 weeks.
Keep scheduled follow-up appointments following surgery.
---
Abramson Facial Plastic Surgery & Rejuvenation Center uses innovative, state-of-the-art techniques and instruments to perform chin augmentation and other aesthetic procedures for patients throughout the Metro Atlanta, GA area including Milton, Carrollton, Gainesville, Douglasville, Dunwoody, Sandy Springs, Alpharetta, and Johns Creek, GA. Call (404) 297-1789 today to schedule a cosmetic consult/virtual visit with Dr. Abramson to determine if chin augmentation is right for you.