Statistics show that 7 out of 10 people, both men and women, are frustrated by submental fullness, commonly referred to as a double chin or the presence of subcutaneous fat under the chin. The presence of excess fat under the chin area creates an out-of-shape, lethargic appearance, even for patients who are generally in good physical condition. A double chin usually develops due to several factors, such as genetics, weight gain, and the aging process. A strict exercise regimen and a proper diet can't always change the appearance of excess fatty tissue in this area.
This is one of the most common conditions that people seek help from Peter J. Abramson M.D., at Abramson Facial Plastic Surgery & Rejuvenation Center in Atlanta, GA. A double chin can detract from an otherwise pleasing appearance and Dr. Abramson is happy to be able to provide his patients with Kybella®.
Learn more about the Brilliant Distinctions program.
What is Kybella®?
Kybella® is an injectable treatment more comparable to other injectables like Botox® Cosmetic and Juvéderm®. Kybella® treatments don't require surgery. Kybella injections use a synthetic form of deoxycholic acid, which is naturally produced by your body to help absorb fat. Once injected, the acid destroys fat cells beneath the chin area so they no longer have the capability to store fat. It's like melting away the fat without heat or laser. Expect some swelling and soreness after treatment. It will resolve in a few days. There may also be temporary numbness at the injection site, which resolves. The use of ice and painkillers reduces these mild effects.
Candidates for Kybella®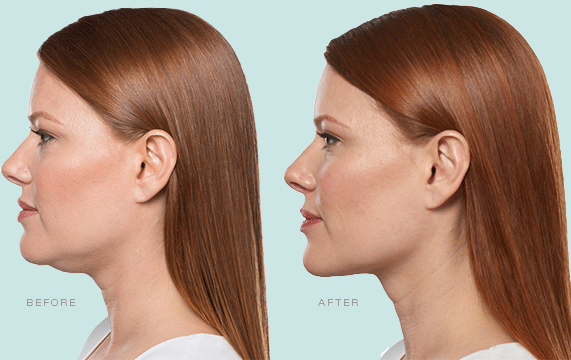 Anyone over 18 in good health, with moderate-to-severe submental fat can reap the benefits of this aesthetic treatment. If your chin has a twin, and you'd like to improve its appearance without the risk of surgery – you're the perfect choice for this exciting new procedure.
Kybella® is a noninvasive, nonsurgical way to address this condition and produce a tighter, more lifted, and better-contoured jaw and chin. If you are experiencing double chin and would like a safe and effective way to restore a more attractive appearance, you may be the ideal candidate. The only way to know for sure is to schedule a private consultation with Dr. Peter Abramson to discuss the probability of having success with Kybella®.
About the Procedure
Kybella® is a safe, non-surgical procedure, so your treatment is performed in the comfortable, welcoming setting of Abramson Facial Plastic Surgery & Rejuvenation Center in Atlanta, GA. Before the treatment begins, any pain relief will be administered if appropriate in your case. Then, using a special grid, Dr. Abramson will carefully draw the boundaries for the injections on your skin. He will then use the temporary grid marked on your chin and neck as a guide and give you 14-50 injections, depending on your particular needs. The procedure is simple and straightforward, taking roughly 20 minutes to complete. Then you're on your way.
Most patients will need multiple injections spaced at weekly intervals in order to achieve the maximum benefits. However, the majority of patients see noticeable results after 2-3 treatment sessions. The actual number of treatments required will depend on the amount of fat being eradicated. Once your aesthetic goal has been reached, there is no need for further treatment. When Kybella® kills those fat cells, they are gone for good!
Preparation
Patients need to be aware that some medications increase the likelihood of bruising. Therefore, Dr. Abramson advises patients to stop taking  the medications listed below for 4-7 days prior to Kybella® injections.
Motrin, Advil, Ibroprofen, Naprosyn (or same class of anti-inflammatory medications)
Aspirin
Fish oils
Vitamin E
Glucosamine
Ginko Biloba
Coumadin or Lovenox (though you are more likely to bruise if you are on these, we suggest you DO NOT stop this medication, and seek your primary doctor's approval).
Recovery
Kybella® does not require any recovery time or downtime; most patients can return to their normal activities immediately. As with any injection, there is a risk of bruising and swelling at the injection site and some patients experience temporary redness and/or swelling. This usually disappears within a couple days but can last up to a week.
---
Dr. Peter Abramson at Abramson Facial Plastic Surgery & Rejuvenation Center was one of the first physicians in the Atlanta area to offer Kybella® for treatment of excess under the chin fat removal. He has had patients come to him for Kybella® injections from all over the north Georgia area including Alpharetta, Roswell, Sandy Springs, Marietta, Decatur, and Johns Creek. Call (404) 297-1789 to schedule a consultation with Dr. Peter Abramson to discuss Kybella® today.