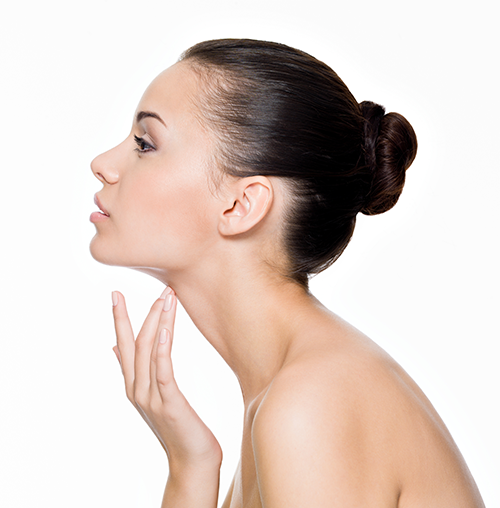 With age, the muscles supporting the neck weaken, allowing vertical bands to emerge on the neck. Along with the bands, fat accumulates under the chin, and excess skin begins to sag. Often the neck is one of the first areas to exhibit the signs of aging. A neck lift procedure smooths and tightens the skin around the neck and removes unwanted fat to provide a more youthful appearance. When combined with a full facelift, or mini facelift, the results are impressive and long-lasting. During the initial consultation, Peter Abramson, M.D. at Abramson Facial Plastic Surgery & Rejuvenation Center in Atlanta, GA, will determine if you are a candidate for a neck lift, and recommend what combination of procedures might not only rejuvenate the neck area but the face as well.
Candidates for a Neck Lift
Loose, sagging skin from under the chin
Visible vertical bands on the neck
Areas of fat under the chin (double chin) and on the neck
Procedure Preparation
Prior to a neck lift procedure, Dr. Abramson recommends that patients adhere to standard pre-op guidelines to allow for patient safety and maximum post-op results as follows:
Eat a healthy diet rich in nutrients.
DO NOT smoke in the weeks surrounding the procedure.
DO NOT take pain medication containing aspirin or ibuprofen.
Provide Dr. Abramson with a list of any medications that are taken regularly.
DO NOT eat or drink after midnight the night before the procedure.
DO NOT wear makeup or contact lenses to surgery.
Patients must have a friend or relative drive them to and form the procedure.
About the Neck Lift Procedure
Dr. Abramson performs neck lift surgery as an outpatient procedure using local anesthesia. Dr. Abramson pulls loose skin up and back and then removes it. Hiding incisions behind the ears provides a more youthful neck and jawline. The surgery often accompanies a mini facelift or full facelift procedure for a more comprehensive facial rejuvenation.
Aftercare and Recovery
Because a neck lift is considered to be an outpatient procedure, patients can begin the recovery process in the comfort of their own home the same day as surgery. After the procedure, a loose-fitting dressing is applied. Typically, there is little to no discomfort after surgery; however, if pain is present it can easily be controlled with over-the-counter medication. Discoloration and bruising is a normal part of the recovery process and generally fades away within seven days. To help the recovery process, Dr. Abramson suggests that patients do the following:
Clean incisions with hydrogen peroxide daily.
Apply antibiotic ointments to incisions daily.
Have stitches removed in 4-8 days.
Wear the chinstrap provided as much as possible for 1 week after leaving the surgery center.
DO NOT wear earrings for three weeks after surgery.
Recline in a face-up position at a 45-degree angle for at least two weeks.
Shower with lukewarm water starting 48 hours after surgery.
No heavy exercise for 2 weeks.
Keep scheduled follow-up appointments following surgery.
---
Abramson Facial Plastic Surgery & Rejuvenation Center uses innovative, state-of-the-art techniques and instruments to perform neck lifts and other aesthetic procedures for patients throughout the Metro Atlanta, GA area. Call (404) 297-1789 today to schedule a neck lift consultation.