Full Facelift Plastic Surgery in Atlanta, Georgia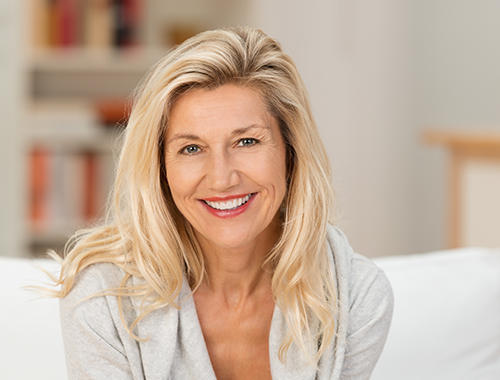 At Abramson Facial Plastic Surgery Center & Rejuvenation Center, we've dedicated ourselves to serving the cosmetic facial needs of Atlanta including a full facelift, mini facelifts, rhinoplasty, chin augmentation, blepharoplasty, browlifts, neck lifts, cheek enhancement, and ear surgery.
Our only focus is on the face, so you can be assured that double board-certified Peter Abramson, M.D. is an experienced, well trained and successful facial plastic surgeon that you can trust. It's his privilege to help his patients look and feel their best.
Whether you're interested in brightening up your eyes or considering combination facial surgery for more complete rejuvenation, you'll find what you're looking for with us.
Full Facelift Surgery
A facelift can reverse the effects gravity has on the face and make you look younger and fresher. As we age, we all experience the effects of gravity and age-related changes. Stress, wear and tear, and lifestyle factors also contribute to the unwanted changes we see in our faces such as deep creases, lines, wrinkles, folds and fat deposits. Men and women in their 40s and older commonly decide to "turn back the clock" by having a facelift.
A full facelift by Dr. Peter Abramson is the obvious choice to improve the signs of aging and achieve a more youthful appearance. The procedure involves removing excess fat and skin from the face, tightening relaxed muscles, and re-draping the skin over the face and neck. This can be done on its own or along with other facial procedures such as chin augmentation, eyelid surgery or nose reshaping. The results give you a more refreshed appearance with smoother, tighter skin, while removing the unwanted lines, wrinkles, jowls, and folds.
To see many of Dr. Peter Abramson's mini and full facelift patient photos click here+
Difference Between a Full Facelift and a Mini Facelift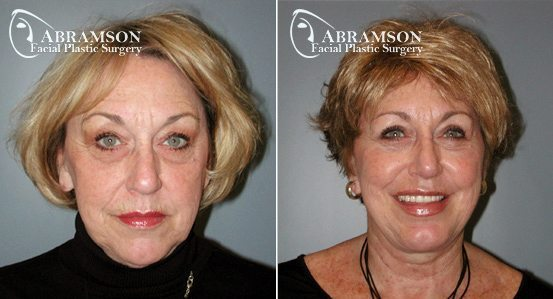 A full facelift involves the entire facial area including forehead and neck, and can include the nose. Usually a full facelift requires longer surgery and longer healing period.
A mini facelift concentrates on the mid-face area and often includes the neck area. Incisions are generally smaller and recovery period is much less. Loose skin beneath the chin and jaw are trimmed and tightened for that same defined look. More minor creases, lines and folds can disappear with a mini face lift.
Both full and mini facelifts can create a new look to the face. The manner, downtime, and results are just a little different. A consultation with Dr. Abramson can help you determine which lift best suits your facial goals. During your consultation, Dr. Abramson will explain all of your options, customize a plan just for you and he will help you choose the right procedure for the right results.
Good Candidates for a Full Facelift
With a facelift from double board-certified plastic surgeon Dr. Peter Abramson, you don't have to leave your vibrant good looks behind as you get older. Stop feeling self-conscious and give your self-esteem a boost with a personalized facelift from the Abramson Facial Plastic Surgery Center in Atlanta, GA.
According to the American Society of Plastic Surgeons a good facelift candidate is one who is healthy and does not have medical condition that impair healing, is a nonsmoker, and one who has a positive attitude and realistic expectations.
Procedure Preparation
Prior to a facelift procedure, Dr. Abramson recommends that patients adhere to standard pre-op guidelines to allow for patient safety and maximum post-op results:
Eat a healthy diet rich in nutrients.
DO NOT smoke in the weeks surrounding the procedure.
DO NOT take pain medication containing aspirin or ibuprofen.
Provide Dr. Abramson with a list of any medications that are taken regularly.
DO NOT eat or drink after midnight the night before the procedure.
DO NOT wear makeup or contact lenses to surgery.
Patients must have a friend or relative drive them to and form the procedure.
Aftercare and Recovery From a Full Facelift
Because a full facelift is considered an outpatient procedure, patients can begin the recovery process in the comfort of their own home the same day as surgery. After the procedure, a loose fitting dressing is applied. Typically, there is little to no discomfort after surgery; however, if pain is present, it can easily be controlled with over-the-counter medication. Some swelling, discoloration and bruising are normal parts of the recovery process and generally fades within seven to 10 days. To help the recovery process, Dr. Abramson suggests:
Keep the head elevated as much as possible
Avoid strenuous activities for 2 to 3 weeks
Be gentle with facial and hair care due to tenderness
Camouflage makeup can be worn to cover bruising
Keep scheduled follow-up appointments after surgery
We recommend using an oxygenated or mineral based makeup, which actually aids in healing while providing effective coverage. The level of feeling better increases daily and is very much dependent on the plastic surgery procedure. Healing will be gradual and visible results  appear over time, so be patient.
Non-Surgical Facial Rejuvenation
In addition to our facial plastic surgery procedures, we offer a complete menu on non-surgical rejuvenation treatments such as:
Fraxel Laser Skin Rejuvenation
---
Abramson Facial Plastic Surgery & Rejuvenation Center uses innovative, state-of-the-art techniques and instruments to perform full facelifts and mini facelifts in their own surgical suite located within the Abramson Facial Plastic Surgery Center in Atlanta, GA. Patients travel from all over Georgia and the United States to have their facial plastic surgery performed by double board certified Dr. Peter Abramson. Call (404) 297-1789 today to schedule a full facelift consultation.