Juvéderm® is the #1 selling collection of hyaluronic acid fillers in the US. Each specially formulated product adds volume to a different area of the face to lift cheeks, smooth parentheses lines, or plump the lips. Peter Abramson, M.D., at Abramson Facial Plastic Surgery & Rejuvenation Center in Atlanta, Georgia, uses the different products together or alone to achieve the desired results of his patients.  He may also use them in combination with wrinkle inhibitors such as Jeuveau or Botox® Cosmetic. The results are subtle and long-lasting.
Juvéderm® Voluma® XC – designed to add volume to the cheek area.
Juvéderm®XC – for the correction of moderate to severe facial wrinkles and folds (such as nasolabial folds) and lip plumping
Juvéderm® Volbella® XC – adds volume to the lips and smooths vertical lip lines.
Juvéderm® Vollure™ XC – to fill in area around the nose known as nasolabial folds.
What is Juvéderm®?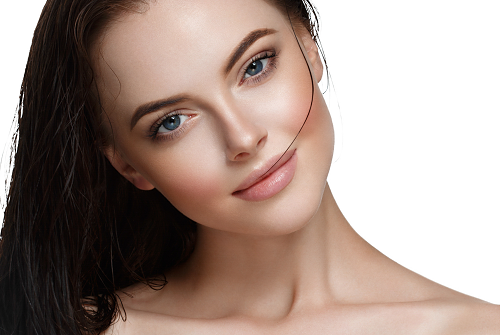 Juvéderm® is a very popular FDA approved injectable gel made of hyaluronic acid that is injected into the face to instantly restore volume and hydration. Wrinkles and folds, like smile lines or nasolabial folds are smoothed away for up to a year. Juvéderm® lasts long because it's the only dermal filler currently available with the highest concentration of hyaluronic acid  and a special formulation process. This process creates a smooth gel that flows easily into the skin, creating smooth, natural looks. It helps add volume and hydration.
Look vibrant and youthful with these quick, safe and highly effective beauty volumizing injections. Each injection takes less than 10 minutes, and there is no downtime. Results are immediate.
No allergy testing is required and the results are beautiful!
Allergan, the maker of Botox, developed the Family of Juvederm® XC products. They have also introduced Kybella® for removing a double chin.  All of these products  qualify for the Brilliant Distinctions Awards program.
 Juvéderm® Corrects Many Imperfections
Cheeks
Lip and lip border
Fine vertical lines on the upper lip
Nasolabial folds (folds from the nose to the mouth)
Marionette lines (lines from the corners of the mouth down to the chin)
Chin and all around the mouth
Jaw line
Under the eyes or "tear trough"
Between the brows
Preparation
Patients need to be aware that some medications increase the likelihood of bruising. Therefore, Dr. Abramson advises patients to stop taking the medications listed below for 4-7 days prior to Juvéderm injections.
Motrin, Advil, Ibroprofen, Naprosyn (or same class of anti-inflammatory medications)
Aspirin
Fish oils
Vitamin E
Glucosamine,
Ginko Biloba
Coumadin or Lovenox  (though you are more likely to bruise if you are on these, we suggest you DO NOT stop this medication, and seek your primary doctors approval)
About the Procedure
All filler treatment procedures start with either a topical numbing gel to lessen or eliminate discomfort. Juvéderm® products tend to be less painful as the XC stands for Extra Comfort. Once the desired area is numb, Dr. Abramson will inject the Juvéderm® filler under the skin. Multiple injections are made so the dermal filler is evenly distributed through the area. The entire procedure can be performed in less than an hour.
Recovery
DO NOT rub or massage the area unless instructed to do so for 24 hours.
Apply ice to the area – especially lips.
DO NOT sleep on the face or compress the area for 2-3 days.
Avoid significant facial expressions for 4-8 hours.
Swelling and redness will subside within 24 hours.
DO NOT exercise for 24 hours.
DO NOT expose area to heat for 24 hours.
No facials for one week.
---
Abramson Facial Plastic Surgery & Rejuvenation Center uses innovative, state-of-the-art techniques and instruments to perform aesthetic procedures for patients throughout the Metro Atlanta, GA area. Call 404/297-1789 to schedule a consultation with Dr. Abramson to discuss facial fillers today.