The signs of aging first appear on the face. Once full, plump lips begin to deflate and lose their contour and fullness. The cupid's bow of the upper lip may begin to thin and flatten out as the color fades. Lip enhancement, also known as lip augmentation,  effectively corrects these problems and restores what aging takes away.
Using the most modern procedures, techniques and instruments, the experts at Abramson Facial Plastic Surgery & Rejuvenation Center in Atlanta, GA, successfully perform lip augmentation procedures that work. Lip augmentations can also be performed in combination with other facial procedures such as rhinoplasty, cheek augmentation, or chin augmentation to ensure the most balanced look and satisfying results possible!
Candidates for Lip Enhancement
Thin, flat lips
Vertical lines around lipline
Lips recede when smiling
Self-conscious about how lips look
Fuller lips will help balance the face
Lip Enhancement Options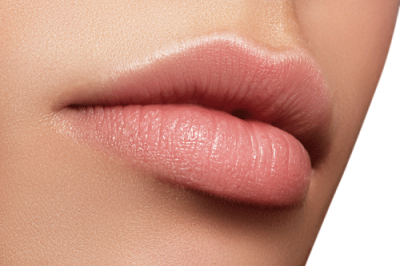 Injectable Fillers: Two fillers are specicifally formulated for the most natural results for lips.  Volbella® is a dermal filler used to define lips and reduce fine wrinkles around the lips, made from hyaluronic acid. Dr. Peter Abramson takes advantage of Volbellas's smaller particle size to treat the area of the lips without bulky or puffy looking results. Restylane® Silk is an FDA approved hyaluronic acid cosmetic filler specifically created to add volume and fullness to the lips and erase vertical lines around the lips. The special viscosity of Restylane® Silk allows each injection substance to connect to the adjacent one, providing a smooth result that looks natural. Restylane® Silk is safe and effective and does not require allergy testing prior to use. Learn more+
Fat Transfer: Fat is harvested from another location on a patient's body, purified, and then injected into the lips to achieve a full voluminous look. Facial fat transfer is a safe procedure that provides natural, long lasting results. Learn More+
Lip Advancement (Lip Shortening/Lip Lift): is a surgical procedure used to lift and enhance the upper lip, and can also be used to reshape the lower lip. Lip advancement can be a very satisfying procedure for those with thin lips due to genetics or aging and can produce a fuller, more well-defined set of lips permanently!
About the Procedures
Lip enhancement surgical procedures at Abramson Facial Plastic Surgery & Rejuvenation Center involve some or several of the following steps:
The face will be cleaned, and patient will be draped.
Pre-operative markings will outline the procedure.
Lip tissues will be injected with local anesthetic.
Incisions will be made and skin will be excised appropriately.
Lifting and/or reshaping will be done.
The skin will be sutured back together creating a higher lip.
Antibiotic ointment will be applied to the lips.
Aftercare and Recovery
Swelling of the lips is common following lip injections, and should subside within a few days. After a surgical lip enhancement procedure at Abramson Facial Plastic Surgery & Rejuvenation Center, patients can expect to experience some numbness and loss of sensation, along with swelling and bruising. This all diminishes over time. The swelling usually subsides within 7-10 days and numbness may last for up to 4-6 weeks. To assist in the recovery process, Dr. Abramson suggests that patients do the following:
Avoid direct sunlight
Go on a liquid diet for a day or two
Use ice packs to help reduce swelling and manage discomfort
Keep scheduled follow-up appointments following surgery
---
Abramson Facial Plastic Surgery & Rejuvenation Center uses innovative, state-of-the-art techniques and instruments to perform lip enhancement and other aesthetic procedures for patients throughout the Metro Atlanta, GA area. Call (404) 297-1789 today to schedule a personal consultation with Dr. Abramson to determine if lip enhancement is right for you.
There are Facials, and Then There's HydraFacial When it comes [...]