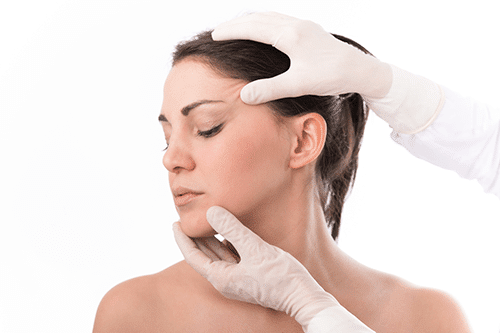 Peter Abramson, M.D. often suggests a chin enhancement to his patients undergoing rhinoplasty. Facial proportions are the key to beauty and a well proportioned chin plays a critical role. An underdeveloped chin makes the nose appear larger and the area under the chin look more full. Traditionally, the only way to enhance the chin was by surgical placement of a silicone implant under general or local anesthesia.
This procedure involves up to two weeks of swelling and several days of pain. The results can be very good, and for certain patients who have severe under-projection of the chin it is the only treatment that makes sense, but many patients with mild to moderate under-projection no longer need to undergo the risk, expense and discomfort.
Non-Surgical Solutions for Chin Enhancement
Facial fillers and Botox have been around now for 17 years. Since their first development they have helped men and women around the world look younger and feel better. Since then Dr. Abramson has developed better non-surgical ways of using fillers to improve facial features, like chin enhancement. Dr. Abramson typically uses Lyft, Voluma, or Radiesse. Voluma is the latest generation hyaluronic acid (HA) filler in the Juvederm line of products, which have been safely and successfully providing beautiful results to patients for many years. The effects of this filler last up to two years and are completely reversible if results are unsatisfactory or need to be adjusted.  Lyft is a more robust version of Restylane. It is also a hyaluronic acid filler and last for about 10 months. Lyft is fully reversible. Radiesse is a filler composed of calcium hydroxylapatite complexed with cellulose. Radiesse is the most robust filler available today and it is ideal for patients with more pronounced retrusion. Calcium hydroxylapatite is biodegradable, so it is safely absorbed by your body over time.
Find Out More About Non-Surgical Chin Enhancement
Make an appointment with Dr. Peter Abramson at Abramson Facial Plastic Center in Atlanta. He will answer all your questions in detail and create a plan designed specifically for you and your goals.
Abramson Facial Plastic Surgery & Rejuvenation Center uses innovative, state-of-the-art techniques and instruments to perform rhinoplasty, chin enhancement, facelifts, blepharoplasty, and other aesthetic procedures for patients throughout the Metro Atlanta, GA area including Decatur, Tucker, Alpharetta, Milton, Johns Creek, and Smyrna. Call (404) 297-1789 today to schedule a consultation to discuss chin enhancement.