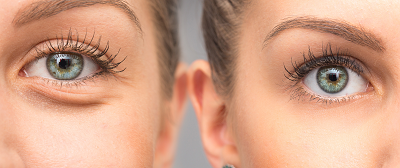 Also known as an eye lift, blepharoplasty is a surgical rejuvenation of the eyelid area that can include both upper and lower lids or a single lid. With time and aging, excess fat can gather in the upper and lower lids, causing the common problems of droopy lids, sagging eyebrows, and bags underneath the eyes. This surgery is a corrective procedure and can remove these excess fatty deposits as well as any excess skin and wrinkles. Not only can blepharoplasty improve confidence in one's appearance, removal of excess skin and fat can also improve vision. Whether you're interested in an eyelid lift to improve vision or for aesthetic reasons, Dr. Abramson can help you achieve the results you want.
Candidates for Blepharoplasty
Hooded upper eyelids
Tired, sleepy appearance
Under eye bags
Low eyebrows
Vision obstruction
Recovery Recommendations
Recline in a face-up position at a 45-degree angle for at least one week
Avoid strenuous activities for 2 to 3 weeks
Keep scheduled follow-up appointments following surgery
To see examples of the difference blepharoplasty can make, please view the gallery of before and after images below. To learn more about blepharoplasty click here.