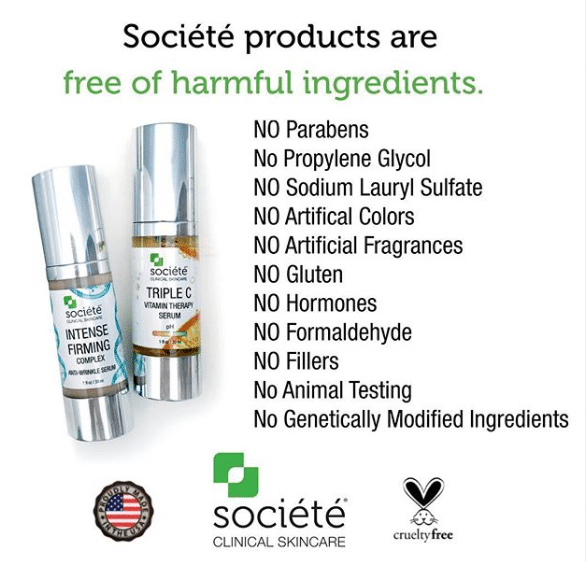 The cruelty-free medical-grade Société skin care products that we sell at Abramson Facial Plastic Surgery in Atlanta, GA., contain active ingredients that have been clinically proven to have a positive effect on skin. This cosmeceutical line contains ingredients that have the capability of penetrating below the top layers of the skin, unlike cosmetic skin care lines. In fact, they often use ingredients contained in prescription skin care products, such as retinol, antioxidants, or peptides, although in lesser amounts or alternate derivatives than prescription strength. Similarly, the formulation of a product plays a large role in its effectiveness. The Société products we carry have been developed to a higher standard than retail brands, with quality ingredients to provide effective structural results.
Aside from its wonderful effectiveness, we love Société's product line because they care about the environment. This awareness is reflected throughout all facets of their business, including: recyclable product packaging, eco-friendly ingredients, recycling, paperless systems, and renewable power. Most importantly, Société is passionately against animal testing. They are a Cruelty Free company, which means they have never tested products or ingredients on animals. The company strictly complies with U.S. FDA requirements and they are seeking a Humane Cosmetics Standard certification from Cruelty Free International, which ensures cruelty-free practices at all stages of product development, including suppliers.
Société continuously strives to reinforce the nexus between nature and the science of skin care by harnessing the most active ingredients nature has to offer and pairing them with the most current technological and scientific advancements. Their products are developed from the ground-up by working with actual patients in a live, clinical setting. The result? At Abramson Plastic Surgery we believe they offer some of the most effective products available only through dermatologists, plastic surgeons, medical spas, and other skin care professionals. Their products are targeted to address five specific skin care problems and conditions with product lines that integrate the essential components needed to achieve healthy skin:
Aging
Hyperpigmentation
Rosacea
Acne/Problematic Skin, and
Sun Damage
Societe Skin Care Products That Lina Loves
The Societe Skin Care Refinishing complex is a skin treatment formula designed to aid in the retexturizing of skin through the benefits of retinol & alpha hydroxy acids. Also contains Pigment Regulating Technology (PRT)™ a patent pending delivery system.
The Societe Skin Care Hydration complex, a very popular product is a light and refreshing hydration boost for the skin, formulated to provide a soothing, calming effect. Vitamin C and Société's innovative Peptide Complex promotes increased collagen and elastin production, while antioxidants and hyaluronic acid soothes and reduces the appearance of redness associated with skin resurfacing procedures, rosacea and sunburn. The unique complex offers both 'anti-microbial' as well as accumulative performance.
The Societe Triple C Serum is one of our most popular vitamin C serums. This innovative formula utilizes Sodium Ascorbyl Phosphate, Ascorbyl Glucoside and Magnesium Ascorbyl Phosphate. The added benefit of these types of vitamin C is that they are stable, they do not oxidize as easily as other types of vitaminC which is a bonus for the customer. Triple C serum assists with UV repair, even skin tone and anti-ageing benefits of an increase in collagen and elastin. Can be used by all skin types, am and pm under your moisturizer.
We will customize a skin-care regimen tailored to your specific needs by our aesthetic specialist Lina. Our providers are familiar with the product line and with your skin type. Therefore, it's more likely you'll receive the correct product the first time, rather than trying a number of brands in hopes of finding one you like.  Also, you'll receive education in the product line, including information on why it was recommended for you and in what order to apply the products for optimal penetration.
Societe Skin Care Products Are:
Free of Parabens
Free of Propylene Glycol
Free of Sodium Lauryl Sulfate
Free of Artificial Colors
Free of Fragrances
Free of Gluten
Free 0f Hormones
Free of Genetically Modified Derived Ingredients
Free of Fillers
Free of Chemical Dyes
Free of Formaldehyde
Made With No Animal Testing
Read more about using animals for testing skin care products and other household products+