Holiday Glam Face – Younger Looking Almost Instantly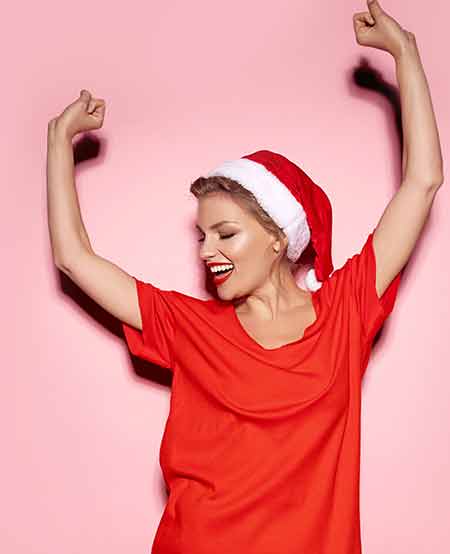 'Tis the season' for shopping, decorating, cooking, and giving, but if we don't carve out a little 'me time', we're going to look and feel like Ebenezer Scrooge! Now is a great time to consider injectable aesthetic treatments that will add a touch of glowing youth back for a holiday glam face. All can be done with a simple, short session at the Atlanta office of Dr. Peter Abramson. Whether you choose botulinum toxin products, dermal fillers, or both, you'll be ready to hit the party circuit in days, with results that shine through the holiday season.
Injectable Wrinkle Inhibitors
With parties to attend along with seeing friends and family that you haven't seen in years, it may be time to spruce up your face and neck line. With products like Botox,  Jeauveau and Xeomin you can achieve almost instant gratification.
Though each product contains a distinct formula, they all work in a similar fashion. Over time, certain muscles that handle facial expressions can become semi-permanently contracted. Most commonly, this occurs around your eyes in the crow's feet region, or between and above your eyes as worry lines on your brow and forehead.
Your skin reflects these contractions and adds to the wrinkle burden on your face. The active ingredients in all formulations cause the muscles in which they're injected to relax, smoothing and rejuvenating your facial appearance.
Injectable Dermal Fillers
Not all lines on your face are the result of contracted muscles. One effect of aging is the loss of tissue in the middle layers of your skin, the dermis. This layer supports and nourishes your surface skin, so that loss of tissue affects your appearance. The outer epidermis gets drier, less elastic, and begins to fall into voids created in the dermis.
Dermal fillers target the effects of lost collagen, replacing it with injectable gels formulated from biocompatible components that are part of your skin's natural composition. Each dermal filler product has its own characteristics and applications. Some spread from the injection site, while others remain close. One product may add volume over a wide area such as cheeks or lips, while another may excel at filling in fine lines and wrinkles.
Dr. Peter Abramson offers Juvederm Family of Fillers, Restylane, and Voluma. He can help you determine which will work best for your holiday glam face!
Best Facial Treatments
This is the perfect time of year to brighten your spirits, and your complexion, by indulging in a Cool Peel Facial,  or a OxyGeneo Super Facial.  If you're looking for a more youthful 'lift', begin a series of micro needling treatments and start the New Year right by rolling back time!
Holiday Gifts
Need to buy for a sophisticated skincare aficionado? Our medical grade skin care products will deliver the complexion they've always dreamed of.
Body Essentia includes Contouring Cream Derma-Lac Lotion and Body Oil.
Skin Essentia includes Cleansing Lotion, Moisturing Toner, AUST Moisturizer, eye gel, and Revival Masque
Skin Serenity includes Microneeding, Gold Roll-CIT, Cleaning Solution, Night Serum and Frown Serum