When A Previous Rhinoplasty Goes Wrong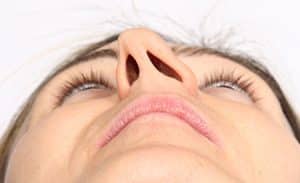 The nose is a defining facial feature, which helps to balance the face.  Many individuals who are unhappy with some aspect of their nose turn to rhinoplasty (nose surgery) for improvement. As a whole, most patients achieve wonderful results. However, the fact remains that rhinoplasty is a complex procedure that requires master knowledge of the anatomical structure of the nose as well as meticulous precision and skill. It is imperative to select a highly qualified, board-certified, and reputable surgeon to achieve the best outcome. The final result of nose surgery can sometimes be unsatisfactory, appear too obvious, or lead to other uncomfortable health problems. The good news is that patients can opt for revision rhinoplasty to address their concerns after their first nose job went wrong.
Selecting Your Revision Rhinoplasty Surgeon
Revision rhinoplasty is an operation that everyone wishes they did not have to go through.
The disappointment and anxiety that came with your primary nose job make you long for a repair or fix, but, at the same time dread the process and fear another bad result. Who wants to go through the inconvenience, discomfort and expense of yet another surgery to achieve the similar original goals?
To increase the likelihood that you won't have to go through the rhinoplasty experience again, you need a revision rhinoplasty specialist who will work with you throughout the entire process from the planning stage prior to your surgery, through the technical demands of the actual rhinoplasty procedure and throughout your entire healing process.
What Went Wrong in Your Primary Rhinoplasty?
Your prior rhinoplasty surgery may have failed because your surgeon was not experienced enough or because your surgeon did not deliver on your wants and needs. Your surgeon may have had different artistic taste than you and may have created a nose that he or she liked, instead of what you thought you were getting.
Maybe the nose you wanted was not possible and your surgeon did not tell you in advance. Sometimes a failed nose job is technically and structurally well done, but not to your taste. In some cases, there was a complication or it was not handled properly by your previous rhinoplasty surgeon.
The Revision Rhinoplasty Specialist
A Board Certified Facial Plastic Surgeon who is an expert in revision rhinoplasty.
Board certification recognized by the American Board of Facial Plastic and Reconstructive Surgery.
Becoming an 'expert' in rhinoplasty not only requires the requisite training and experience but also that the surgeon is keenly interested in rhinoplasty and devote a significant part of their practice to nasal surgery and be willing to do the most difficult cases. Dr. Peter Abramson meets all these qualifications and has been performing rhinoplasty and revision rhinoplasty for over 25 years.
Dr. Abramson explains what happens when patients are not happy with previous Rhinoplasty procedures from other facilities and come to him seeking Revision Rhinoplasty.
When patients are unhappy with their previous Rhinoplasty, and they come to see me for a potential revision, it is exceedingly important that we go over all of their surgical history and medical history and determine what may have occurred, and what I may be able to do to help them in improving their appearance and potentially improving their airway as well. The computer imaging is exceedingly helpful in this situation because we can objectively look at the nose and determine, what are the abnormalities or potential postoperative changes that the patient does not particularly like, and then at that point decide on a plan. Sometimes it's not wise to even perform a revision Rhinoplasty, however there are not many noses that I have shyed away from if the patient really needs my assistance.
Patients who are seeking Revision Rhinoplasty should understand that a second operation to the nose is much more complex than the initial surgery. For one, scar tissue that has formed since the first surgery makes dissection of the nose more difficult. In addition, cartilage has either been weakened or is harder to utilize. This is why patients should only seek a skilled and experienced surgeon when seeking a Revision Rhinoplasty procedure. Dr. Peter Abramson has been performing revision rhinoplasty for over 15 years and is board certified by the American Board of Otolaryngology (head and neck surgery). He is often referred by other physicians when patients are unhappy with their Rhinoplasty outcomes.
If you are unhappy with a previous Rhinoplasty procedure, don't hesitate to call Abramson Facial Plastic Surgery, serving patients from Buckhead, Dunwoody, Marietta, Sandy Springs, Roswell, Alpharetta and beyond.