CO2 Laser Treatment Can Take Ten Years Off Your Skin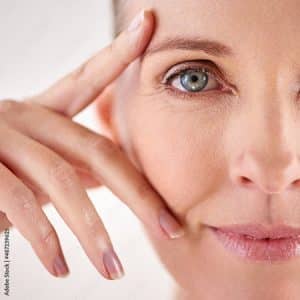 The revolutionary CO2 fractional laser is a great treatment for those patients who are suffering from severe sun damage, deeper wrinkles, uneven tone and texture, as well as acne scars. It also offers the benefits of skin tightening, a smooth and even complexion, and a radiant glow with just one session. Today, CO2 lasers are the best skin resurfacing treatments on the market and can offer dramatic improvement.
CO2 lasers deliver extremely high-energy laser light in short bursts to the skin. This exfoliates your skin layer by layer and removes dead, damaged skin cells. The specialized CO2 laser handpiece allows the Dr. Abramson to control the depth of the treatment, making it an effective option for delicate areas like the face.
A topical anesthetic, and an oral sedative can be used to provide comfort during the treatment.
What to Expect After Your CO2 Laser Treatment
It can take about one week to heal after your treatment session. You will need to stay inside and definitely out of the sun! That is one reason fall is a good time to have this CO2 laser treatment.  You must take good care of your skin during your recovery and follow aftercare instructions diligently. It's important to cleanse your skin frequently and also keep it moisturized. Most patients will find that their skin is covered in a fine crust and is red or pink in color.  Your skin may still be slightly pink for a few weeks, but you can easily cover this with cosmetics after your initial recovery period.
With good upkeep and the right professional-grade products for your skin, your treatment results can last for years.
Results From CO2 Laser Treatment
Tightening of the Skin
Sun Spots Greatly Diminished or Erased
Pore Size is Reduced
Wrinkles Decreased
Diminished Acne Scars
Lessening of Other Textural Irregularities
Due to the continued collagen production following CO2 laser treatment, there is a progressive improvement in the appearance of the treated skin for months and even years after the treatment.
No Time For Recovery
While a CO2 laser treatment is great for improving skin damage, Dr. Abramson can suggest other laser treatments that are effective but non-ablative.
Excel V Dual Laser System
These treatments may require more than 1 treatment, but have minimal to no downtime. Dr. Abramson's aesthetician, can explain all of these alternative laser treatments and how they can benefit your particular skin condition and type.