Forehead Lift Surgery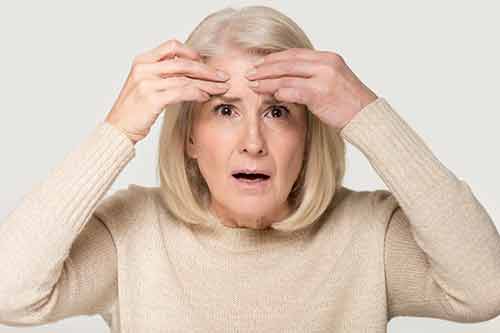 Brow Lift surgery will put an end to your wrinkled forehead and drooping eyebrows.  As people naturally age, their forehead can start to droop down, leaving deep creases in between the brows resulting in a tired or even angry looking appearance. But with the help of brow lift surgery, Peter Abramson, M.D. can raise a person's forehead to a position that decreases heaviness and gives the upper eye area a more youthful and attractive appearance overall that lasts.
Brow Lift Results: Relaxed and Refreshed
Patients who receive forehead lifts frequently look many years younger following surgery. The process itself can successfully relieve tension in between the brows, and ease drooping of both forehead skin and eyebrows while dramatically diminishing the appearance of horizontal and vertical wrinkles in the area. In many cases, an orthoscopic lift is performed along with other facial procedures including a facelift, mini facelift, rhinoplasty or eyelid surgery.
Why You Should Consider a Brow Lift:
Sagging skin on the forehead

Drooping eyebrows

Wrinkles above eyebrows

Excess skin around eyebrows

Crease lines on forehead
The best results are attained on people whose brows are sagging due to the natural aging process or congenitally low brow. The procedure is also beneficial for people who wish to diminish the horizontal creases in their forehead, the creases along the top area of their nose, and the frown lines in between the brows. Some general improvement concerning the hooding of the eyelids can be attained as well, although typically in this particular case, an eyelid lift is usually recommended in addition to a forehead lift.
What to Expect After the Procedure
Be sure your home is stocked with a good amount of gauze and fresh, clean towels for when you go home following your procedure. It's also a good idea to have the following available as well:
• Ice
• Container to hold ice or very cold water
• Plastic freezer bags or bags of frozen peas or corn to use instead of ice
• Plenty of big, soft pillows to keep your head somewhat elevated
• Ointment to address the incision area, which Dr. Abramson can prescribe or recommend if needed
Facial cosmetic surgery has come a long way since its humble beginnings.  The advancement in technology alone has provided the industry with a much broader range of facial surgical options.  Abramson Facial Plastic Surgery Center in Atlanta offers a variety of facial surgery and rejuvenation procedures that will enhance the natural beauty of your face.  Talk to the Dr. Abramson during your initial consultation about your goals for facial rejuvenation and if a Brow Lift Atlanta is right for you.