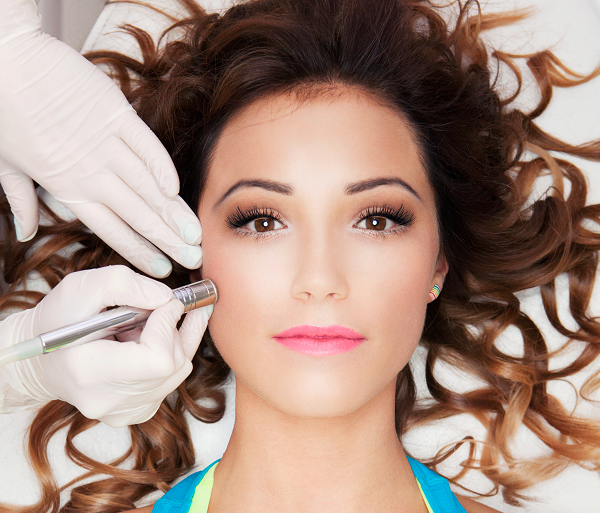 Weddings, Mother's Day, Graduations, Memorial Day, Family Reunion – There's nothing like a special invitation to motivate you to want to special occasion facial treatments done at Abramson Facial Plastic Surgery & Rejuvenation Center to another level. Naturally, we all want to look and feel our best, and we think any event is a great excuse to get on the path to healthy, radiant skin. You can eliminate fine lines and wrinkles, improve skin tone and texture spots, and reduce the appearance of acne scars and blemishes without surgery. A major consideration for pre-event facial care is to be careful to choose a procedure that doesn't require a lot of downtime. Many of the most innovative and effective beauty treatments are possible to fit into a lunchtime break. The Med Spa at Abramson Facial Plastic Surgery & Rejuvenation Center specializes in non-invasive facial treatments such as a light chemical peel, microdermabrasion, a hydrafacial, an OxyGeneo Superfacial or laser treatment to help you look your best in short order. You can enjoy immediate results and glowing skin.
Venus Viva™ is a revolutionary, fully customizable FDA cleared solution for facial remodeling and resurfacing. Delivering impressive efficacy through combining NanoFractional Radio Frequency™ (RF) and one-of-a-kind SmartScan™ technology. Non-fractional radio frequency Venus Viva can achieve smoother skin without the downtime and pain of some C02 lasers. Now there is an alternative with Venus Viva skin resurfacing treatments to allow you to achieve the same results.
If you want your skin to look incredible for photos and social media shares, a HydraFacial cleanses, exfoliates, extracts impurities and hydrates using corrective hydrating, brightening and moisturizing serums targeted for specific conditions. This lunchtime non-invasive facial procedure helps reduce sun damage, cleanses oily skin and congested pores, and infuses your skin with moisture for a soft, youthful glow. Results typically may last up to 7 days.
OxyGeneo Super Facial is a breakthrough skincare technology that naturally oxygenates skin from within, thus significantly accelerating the absorption and optimal utilization of nutrients both during and after treatment. The combination of exfoliation, infusion and oxygenation using TriPolar radiofrequency allows for a non-invasive, safe, and effective rejuvenation treatment with no downtime.
Microdermabrasion is another wonderful treatment for an immediate glow that uses tiny crystals to gently exfoliate your skin. Removing the dull upper layer of dead skin cells allows fresh, brighter skin underneath to be revealed. Give yourself a few days lead time before a special event, in order to give any residual redness to dispel.
Dermaplaning
Dermaplaning is a physical exfoliation that gently scrapes off dry dull skin as well as fuzzy facial hair. Dermaplaning with a light chemical peel or microdermabrasion is a popular combination.
We offer a range of chemical peel strengths, which can exfoliate superficial imperfections and increase peel power all the way to smoothing wrinkles and correcting acne scars. However, prior to an event, we recommend no more than a medium-strength chemical peel to remove the superficial epidermis and help with pigmentation and skin texture. At least a three to four-day lead time is suggested.
Laser Genesis skin therapy is the ultimate in pre-occasion skin refreshment. Micro-pulses of laser energy stimulates the skin's natural processes to reverse the signs of aging and sun damage, thus promoting a vibrant, healthy-looking complexion. One treatment offers a subtle skin pick-me-up…a series can render a dramatically noticeable difference. If vascular conditions are the cause of red, purple, blue or brown discolorations, natural skin tone and color can be restored with the Excel V laser. More superficial vascular lesions may only require one treatment, while deeper discoloration such as a port-wine stain may require a series, so plan accordingly. We recommend a lead time of about 3 weeks.
If you've got 15 minutes and a week lead time, wrinkle inhibiting treatments Botox or Jeuveau can help you shine at your next soiree. These muscle freeze treatments are a great option for fading away wrinkles caused by muscle movement, such as crow's feet, the lines between the brows, and forehead wrinkles. Results take a few days to appear, so plan for your injections at least a week prior to the big event.
Do you want to instantly rejuvenate your look? One, or a combination of our dermal fillers can help you look younger in the new year without surgery. Check out our variety of filler options that lift, re-volumize, fill in wrinkles, re-contour and more. Generally, we recommend at least a week for any minor bruising or temporary swelling to subside.
Schedule Your Special Occasion Facial Treatment Early!
Though you don't have to worry about a long recovery from facial rejuvenation procedures, you should still book your consultation as soon as possible. Schedules may fill up fast and you will want to allow time for any sensitivity or swelling to subside after procedures like laser resurfacing or dermal fillers.