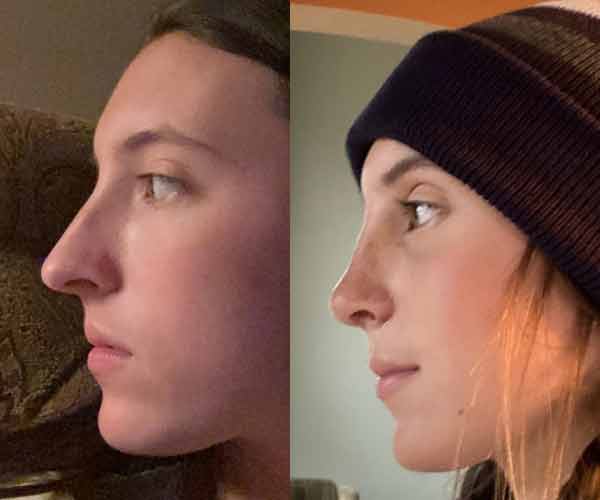 Nose surgery, rhinoplasty and also referred to as a nose job, is  a plastic surgery procedure for altering and reconstructing the nose. The American Society of Plastic Surgery describes it as "nose reshaping" to enhance facial harmony and the proportions of the nose. It can also correct impaired breathing caused by structural defects in the nose.
When choosing a nose surgeon you want to choose a board certified nose specialist. Peter Abramson, MD is a leading expert in Rhinoplasty (nose job) and facial surgery. He is double board-certified by the American Board of Otolaryngology and the American Board of Facial Plastic and Reconstructive Surgery. He is well-respected for his natural appearing noses that breathe well, and he is known for his tastefully sculpted faces. Dr. Abramson only specializes in noses and faces. He does not do any breast or body surgery, which makes his level of specialization unique. His extensive training and experience  distinguishes him as a leader in nose surgery and face surgery.
To see More Before and After Nose Surgery Photos+
Nose Surgery Procedure
Rhinoplasty in Atlanta by Dr. Abramson is a unique experience in which Dr. Abramson will walk you through every step of the way. During your surgery, Dr. Abramson will artfully reshape your nose while you are under the care of experienced anesthesiologists in  Dr. Abramson's own customized  state-of-the-art surgical center and  is located in the same building as his office in the Emory Clinic at Emory Saint Joseph's on Peachtree Dunwoody Road in Atlanta, GA. surgical center which has the highest level of accreditation and provides unparalleled level of care.
After surgery, you will have a light splint on your nose for a week. Dr. Abramson uses a combination of unique surgical methods and holistic methods so that most people can go to work or a social gathering one week after surgery.
Nasal Repair Surgery
The upper portion of the nose is made of the nasal bone whereas cartilage and soft tissues form the lower portion. Nasal fractures often occur as a separation of the lower nasal cartilage from the upper nasal bone. They can also involve fracture of the nasal bone itself. Regardless of the extent, all nasal fractures can result in visible deformity of the nose. As the swelling subsides in the first few days following a nasal fracture, the extent of nasal deformation becomes visible.
The functional deficits associated with nasal trauma include difficulty in breathing, which can be particularly troubling for athletes. Some of the most apparent deformities caused by nasal injuries include deviation of the nasal line as viewed from either the front or side. A side view can be where scar tissue is most apparent. Nasal injuries that involve the nasal bone can heal with a callus of new boney tissue that causes a more or less obvious bump to appear on the upper portion of the nose.
Nasal fracture treatment
In the first few hours following nasal injury or after swelling has subsided, facial specialists can use a non-surgical technique referred to as closed nasal reduction. Nasal injuries that are more than two weeks old or were left with some residual deficit following closed reduction, require a nose surgery correction. As many patients experiencing nasal  injuries are students and young adults, it is important to consider treatment with experts experienced in helping this special patient population with teenage nasal repair.
Experienced facial plastic surgeons, Dr. Peter Abramson and his staff treat both the aesthetic and functional defects. The Abramson Facial Plastic Surgery and Medical Spa is conveniently located to serve patients throughout the Atlanta metro area and across the country.