Facial Plastic Surgeon, Peter Abramson, M.D.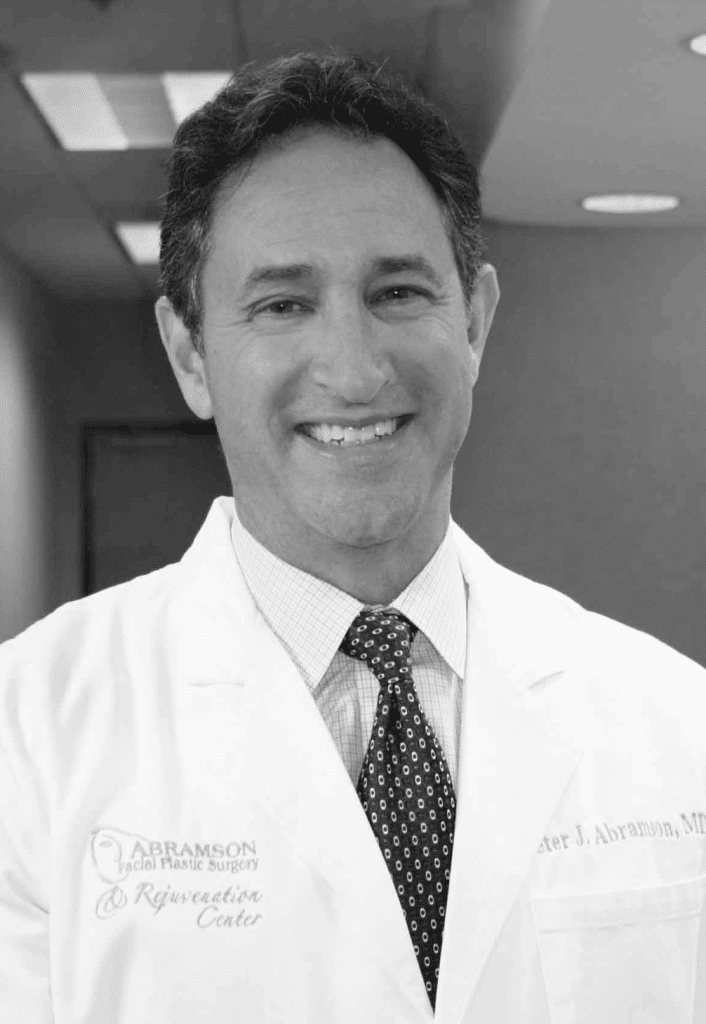 Dr. Peter Abramson in Atlanta for advanced facial plastic surgery is globally recognized and double board-certified.  He has performed a wide range of facial rejuvenation procedures during his illustrious career. Plus, as one of the finest facial plastic surgeons in Atlanta, Dr. Abramson offers a new standard of cosmetic care. Additionally, his knowledge does not only extend to rhinoplasty or a facelift as he is well versed in the anatomy of the entire head. This includes  critical facial nerves that control expression. With his unparalleled expertise, Dr. Abramson offers cosmetic results that are not only immaculate—they are safe, lasting and completely unique to you.
For those who are considering a facial rejuvenation procedure, meeting with Dr. Abramson is ideal. His extensive facial rejuvenation treatment expertise makes him a top choice for facial plastic and reconstructive surgery in Atlanta, north Georgia cities such as Roswell, Alpharetta, Milton, Johns Creek as well as towns across the US and Europe.
Even more important, his extensive facial rejuvenation treatment expertise makes him a top choice for facial plastic and reconstructive surgery.  Also, Dr. Abramson's holistic approach to facial plastic and reconstructive surgery has helped him earn accolades in the community.  He has served as the past president and representative to the Board of Governors as well as president of Metro Atlanta Otolaryngology Society. He honorably holds an academic appointment as Clinical Instructor at Emory University School of Medicine.
What Makes Dr. Abramson the Right Choice for You?
Dr. Abramson's expertise in facial cosmetic and reconstructive plastic surgery has made him one of the most trusted physicians worldwide. Some of Dr. Abramson's career accomplishments to date include:
Double board-certified in facial plastic and reconstructive surgery and Otolaryngology (nasal surgery)
Devoted and focused on doing only facial procedures such as facelifts, nasal surgery, forehead lift, chin augmentation, ear surgery, skin resurfacing, and eyelid surgery.
Over 25 years of experience and has performed thousands of successful facial plastic surgeries.
Has his own outpatient AAAHC accredited surgery center providing the ultimate in safety, privacy, and comfort during your procedure.
Offers computer imaging during your consultation so that you can see what your probable outcome will look like.
Has hundreds of before and after photos of patients he has performed facial plastic surgery on.
Is known for his warm and caring bedside manner and his ability to make his patients feel comfortable during the entire process of your procedure.
Knowledgeable and caring staff who will treat you in a caring, friendly and helpful manner.
His Dedication to Excellence
Moreover, Dr. Abramson does not rest on his laurels, either. He continues to explore ways to improve, and his commitment to excellence which is reflected in the innovations he brings to Abramson Facial Plastic Surgery Center.
Comparatively, his devotion to patient care helps him stand out from other facial plastic and reconstructive surgeons, too. Dr. Abramson wants each of his patients to accomplish their facial rejuvenation goals, and he helps his patients determine the best course of action to achieve their aspirations. By working with Dr. Abramson, a patient can receive expert guidance throughout the facial rejuvenation treatment process. A patient can also ask questions and receive insights into facial rejuvenation treatments that they may struggle to get elsewhere. Best of all, a patient can take solace in the fact that he or she has chosen one of the world's leading facial plastic reconstructive surgeons to provide treatment.
---
Dr. Peter Abramson in Atlanta uses innovative, state-of-the-art techniques and instruments to perform rhinoplasty and other aesthetic procedures. He is well known throughout Atlanta and across the United States. Call 404- 297-1789 today to schedule a personal consultation with Dr. Abramson to determine if this procedure is right for you.