Dr. Abramson explains his approach to safely creating a balanced and youthful look to the face using facial fillers without letting people know you had anything done.
My general philosophy about facial fillers and injectables is a conservative one. We start out slow with the patients and we can always add more. We do not espouse the ideas of placing so much in that everybody else knows you've had something done. We also pride ourselves on trying to reduce any postoperative bruising in their face so that we can reduce the noticeability post-procedure.
Many patients don't know that these are actually considered injectable implants. And, since we take our safety precautions exceedingly seriously, we want to make sure that the patient's have a wonderful experience from having their injectables and enjoy having them, rather than having to deal with any kind of complications thereafter.
Important to us is making sure that we clean the skin effectively so that there is a low risk of infection. Also, there are many blood vessels deep in the face that we have to avoid and make sure that these injectable implants do not compress, or in worst case scenarios, actually get injected into the blood vessel. We take every precaution that we can to try to avoid this from happening. However, there is always the risk of this occuring.
We have not had any complications from intravascular or vascular compromise, which means compressing or plugging up a blood vessel, from our injectables. We also do not know of any patients that have had an infection from our injectable program.
Are Facial Fillers Right for You?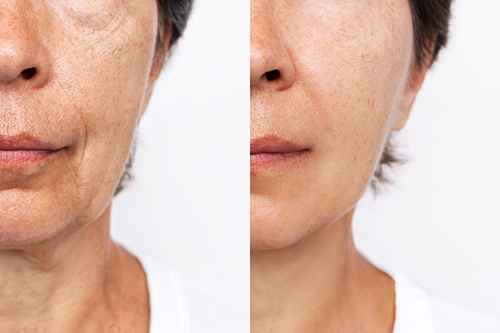 As a facial plastic surgeon, I am often asked about the use of facial fillers. There are patients who come to me seeking a more youthful appearance and want to know if facial fillers are right for them. There are also patients who have had bad experiences with facial fillers and are seeking a conservative approach to facial rejuvenation.
The use of facial fillers has become more popular in recent years. This is due in part to the introduction of new fillers that are made from natural materials such as hyaluronic acid. These fillers are safe and effective, and they provide a subtle and natural-looking result.
I believe that a consultation Is the most important step in learning  if facial fillers are right for you. During your consultation, I will assess your facial anatomy and discuss your goals. Based on this information, your surgeon will develop a customized treatment plan that may or may not include the use of facial fillers.
A Conservative Approach to Facial Fillers
The case for a conservative approach to facial fillers is clear. When it comes to injectable treatments, less is always more. The injectable treatments that produce the best results are the ones that are done slowly and conservatively over time. The goal should be to achieve a natural-looking result, not a drastic change.
---
Abramson Facial Plastic Surgery is located in Atlanta, GA, a convenient drive for those in Buckhead, Dunwoody, Sandy Springs, Marietta, Roswell, Alpharetta and beyond.