Virtual Visits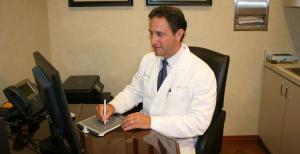 Virtual Consultations are now available at Abramson Facial Plastic Surgery Center. Dr. Peter Abramson is pleased to offer private virtual visits to give you a preliminary idea of your proposed treatment plan.  Patients near and far can use this valuable resource to learn about our practice and whether they are a candidate for the procedures in which they are interested.
By utilizing our complimentary virtual consultations, you can securely communicate with Dr. Abramson by sending a message, asking questions, and sharing photos directly with him.  No need to come into our office for primary consultations. To get started with the convenient consultation method, call and schedule an appointment time when it's convenient for you.
Computer Imaging
Dr. Abramson may do computer imaging to show you how you could look after your procedure is done. With computer imaging you can "try on" your new face before having the cosmetic procedure. If you can provide Dr. Abramson with a photo, he can use his computer image tool he can accurately show a patient what their end results will look like. As a rule, Dr. Abramson takes a conservative approach when using computer imaging, and while he cannot guarantee that certain result, in most cases, the end results very closely mirror and often exceed the patient's expectations.
Once you have completed your virtual consultation, you may then schedule your surgery. Our team at Abramson Facial Plastic Surgery Center will see you in person before your procedure for an in-person consultation and pre-operative visit.
Dr. Abramson has his own customized state-of-the-art surgical center and is located in the same building as his office in the Emory Clinic at Emory Saint Joseph's on Peachtree Dunwoody Road in Atlanta, GA. Abramson Facial Plastic Surgery Center is located in Atlanta, GA and has helped women and men look their best from all over the country as well as Roswell, Johns Creek, Alpharetta, Sandy Springs and Marietta.